Kids After-School Enrichment for Tenafly, NJ & Surrounding Areas
Team Makers NJ is New Jersey's leader in Team Building and Leadership experiences for young children and teens. We offer a professionally facilitated series of activities and challenges which help develop critical thinking, leadership, and cooperation skills while having FUN.
Our program works tremendously well as a S.T.E.M. extension, allowing children to work together to solve challenges and develop leadership skills. It also works well with CORE initiatives.
Team Makers NJ is loved by kids and highly respected by parents and educators. The messaging teaches children to appreciate each other and it has shown to have a strong anti-bullying effect.
Our facilitators are adult-age, have worked with children in the past, have been rigorously trained in the Team Makers NJ philosophy, and have passed an extensive background check using finger-print technology.
Our classes can be offered by age or grade, but works best when blending a few grades together to get a mix of children with varying skills.
OVER 97,000 CHILDREN HAVE ENJOYED OUR PROGRAMS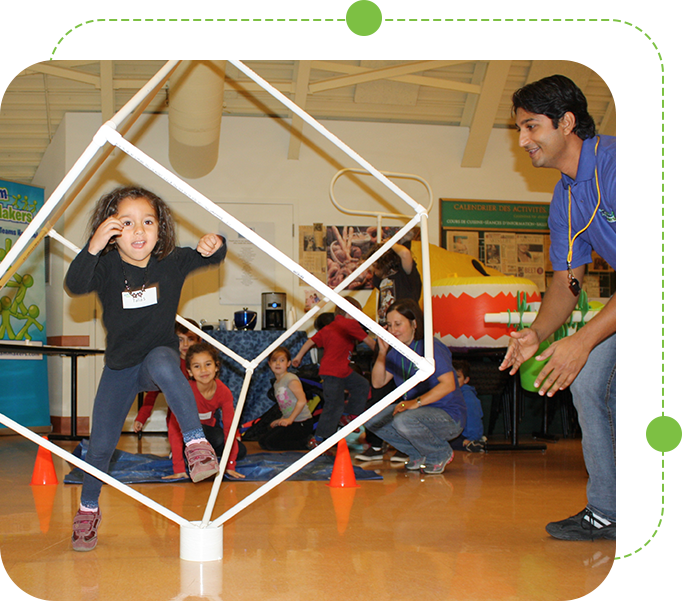 Custom Tailored Programs Fun & Energetic Challenges From Multiple Tracks to Choose From
Children perform hi-energy, interactive games solving challenges while having a ton of fun. Each activity requires the children to work together, exhibit and learn leadership skills and will challenge their imagination. All games are giant-sized with every child participating, moving, and working together. On the last week, all children receive a family-sized game to take home. While the children are constantly active, having fun solving the challenges, they will be learning how to think critically, lead activities, and problem-solve, which will help them in their daily lives at home and in school.
Children go on a quest to play a series of fun and exciting games that require them to use their imagination and thinking skills. They will learn to blend both their cooperation and leadership abilities in order to finish the games. Some of the games include giant mazes with each child taking turns leading the ball through the labyrinth, others require the group to build large structures using giant legos or foam blocks and then performing activities that include their use. In yet another game, the children will construct a large integrated walkway and then navigate it as a group without touching each other. While they think they are just having fun, the reality is that they are developing leadership and socialization skills that will last a lifetime.
Children participate in a new sport each week playing a series of fun games and challenges in non-traditional ways. Sports include Football, Basketball, Soccer, Golf, Baseball and more! The best aspect of this club is that the children gets lots of touches on the ball each week. We play the sports in fun creative ways. Children will learn how to play well together, how to respect themselves and their teammates, and will learn about good sportsmanship. Using the "whole child" methodology, each game will require both physical skill and will challenge the children to use their problem-solving abilities to uncover the best way to play the games. Prizes will be handed out based on the children showing Good Sportsmanship, Teamwork, Great Plays, Active Participation, Playing Well.
Fun with Math and Science
Each week the children will learn about Math and Science they use every day and then do FUN activities that build their skills in these areas – all while working together. Some weeks we will play sports games and learn how statistics and dimensions change the games and have the children play them in different ways to understand how changes in these areas affect game play. In other weeks, we will build structures and use our Math and Science skills to properly erect them and then play games with them. All materials will be provided by Team Makers NJ. Children will learn Math and Science while also developing their reasoning and critical thinking skills- all while having FUN each week.
Real Life Minecraft-Style Games
Using different materials each week, children will build castles, forts, structures and then defend them against the other team. They will be encouraged to use their imagination and thinking skills. They will learn to blend both their cooperation and leadership abilities in order to finish the engaging activities. Some of the games include giant buckets where the child taking turns building various structures to protect themselves against the "invaders", others require the group to build large structures using giant legos or foam blocks and then moving them to other areas. In yet another game, the children will construct a large integrated walkway and then navigate it as a group without touching each other to get to "the other world" and defend it. It is stimulating and active, yet challenging to do. While the children believe they are just having fun, the reality is that they are developing teamwork and problem solving skills that will last a lifetime.
Each week the children play a series of team work challenges that, upon completion, allow them to collect pokemon figurines. Each game requires the children to work together (like in a Pokemon gym) to win the activity first and collect different colored and different designed pokemon characters that give the team extra "powers" to succeed in the next challenge. At the end, they may even have a "Pokewar" with their characters.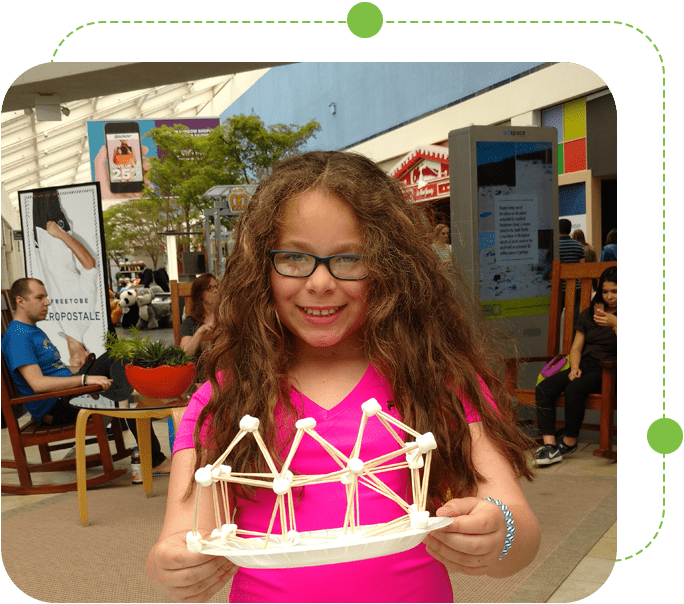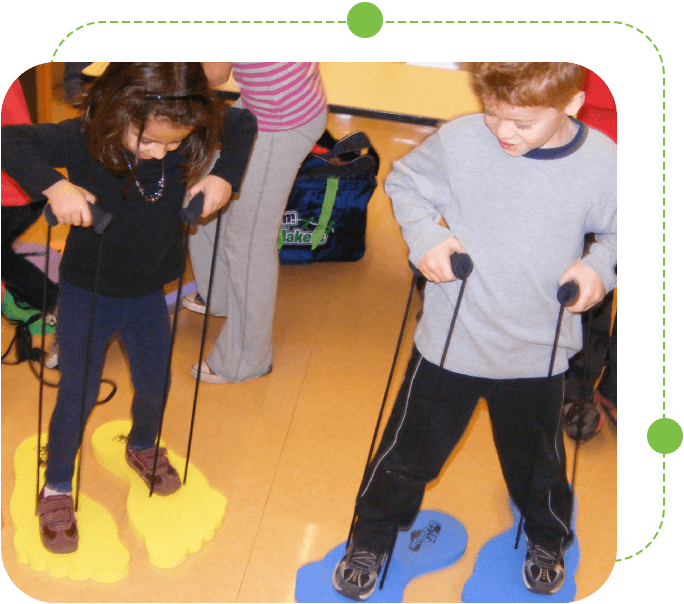 Need for Speed Action Games
Children play a series of active games that require team work, agility, coordination, and skill. Using scooters, cones, obstacles, baskets and much more, each week the children play new games that challenge both their minds and bodies to figure out the best way to complete the activity. Each week the children will work on their leadership, problem-solving and physical skills.
Leadership Games and Challenges
Develop your team and leadership skills while having a blast working through a series of games and activities each week. You and your teammates will play large format, 3-dimensional games where you have to use your critical thinking skills to solve the challenge. Each week as you face new challenges you will build on your leadership skills, learn new techniques to solve games, gain new respect for the other children, and display confidence in your abilities to work with others all while having fun. All games are active and require full team participation.
STUDIES HAVE SHOWN THAT THIS TYPE OF ACTIVITY ENHANCES CHILDREN'S BRAIN FUNCTION AND INCREASES THEIR TEST SCORES!
Engineering Discovery and Explorers Clubs
During the Discovery and Explorers classes students use the Engineering Design Process to design, create, test, race, and refine a variety of projects. They may create balloon racer cars, as well as build their own electro-magnets and explore and refine a variety of machines and mechanical systems. Students will learn the basics of structural mechanics, simple machines, and other design and engineering concepts while possibly constructing giant labyrinths, straw rockets, build-your-own flashlights, and other fun creations. All children will create and get to keep at least 2 and probably more of their creations.
Children get to play soccer in fun, different ways to enhance their skills while having fun. Some classes we play with multiple balls in play so everyone, no matter their skill touches the ball a lot. Other times we will have both multiple balls and multiple goals to score on. Other classes will use a giant soccer ball or a bunch of mini soccer balls with different size goals. Children will learn how to dribble with both feet, shoot with different sections of their feet, basic juggling skills, some levels of tactics and most importantly teamwork and team play.
Building with different materials and then getting to knock it all down in creative ways is the benchmark of this program. Working together the children build massive structures using giant foam blocks one week, foam tiles, another, giant buckets, bricks, and maze walkways are all other weekly adventures. The class needs use logic, strategy, and planning to create the various designs in each week's challenge. Then using other materials the children get to learn how to de-construct their design and possibly rebuild it in a different format elsewhere in the classroom.
Super Hero Games and Activities
Each week children will pick a different super hero and then using their unique skills, will solve a series of challenging games and activities. They will learn creative play and how to use different parts of their bodies and minds to work together to complete the challenges. Other times, they may each select a different super hero and then, working together, have to solve how to beat the "arch villain" (our facilitator) who has set a "trap" for the class to cooperate to be able to figure it out.
Carnival Games Fun and Skills
Each class, the children get into small teams, play different carnivalstyle skill games learning about team-work and adding skill. Some games are sports style, others are more cerebral-- all are FUN to play. Children will earn prizes for winning, great sportsmanship, and Leadership. New games every class. During the club they may even create their own games to play the final week.
Our Sizzling Science program provides a fun, creative and non-competitive environment where your students have the opportunity to explore a number of exciting science topics. Designed with your budding young scientist in mind, our activities allow kids to use their imagination, curiosity and develop their observation skills. We utilize age-appropriate materials and often include take-home experiments. Children learn best by participating programs that they love most and Sizzing Science is a great way to inspire them. Some experiments include learning about earthquakes, shooting off volcanoes, tornados, and experiments in chemical reactions using balloons, beakers, among other props.